An Artful Approach
My values and commitment to you
My commitment to you
I am committed to creating an artful, comfortable, safe and consciously chosen environment for you to call your home in Taos.
I am committed to do all I can to support other small and local businesses, artists and farmers.
I am committed to buying handmade or locally crafted, or at the very least, consciously and beautifully created furnishings and products.
I am committed to personally growing as much food as I can in the growing season and supplementing what I cannot grow by buying from local farmers and organic sources.
I am committed to being a good steward to our land, our community and our planet.
Finally… I am committed to serving, nurturing and caring for you, my guests, with these following values and standards: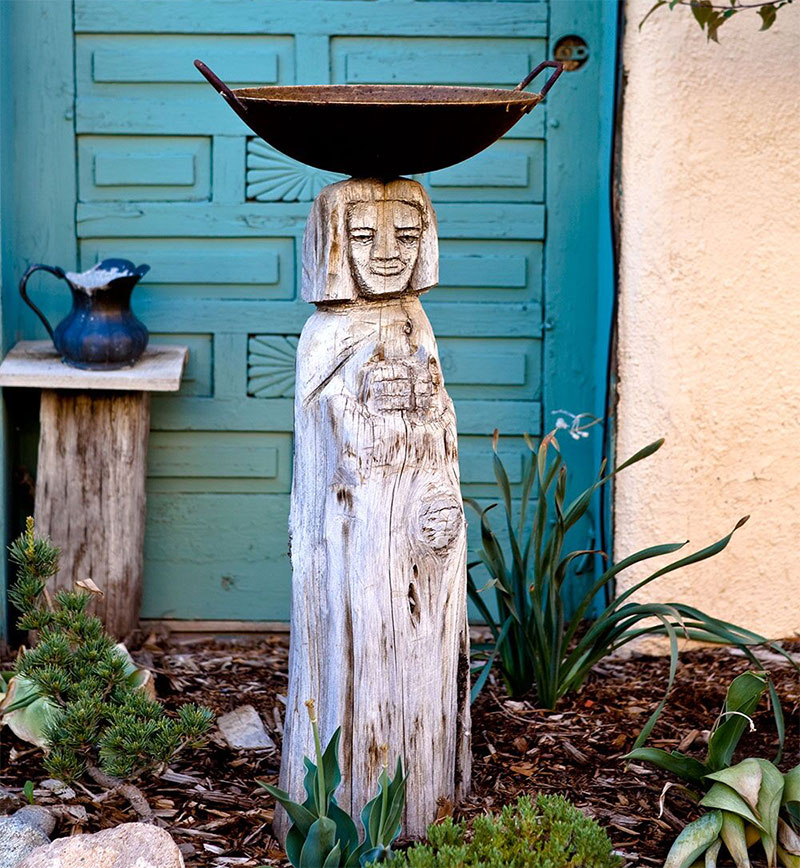 Artisan Made
The furnishings, art and textiles within your casita were hand selected from artisans both locally and from around the world. Many of the objects and artwork in your casita are for sale. Ask me to see other work in other casitas if you're interested.
Fair Trade Certified
I am committed to stocking our kitchens with Fair Trade Certified products. All of the coffees, bath soaps and most chocolates are purchased with Fair Trade Certification. Check out www.fairtradeusa.org for more information on fair trade.
Certified Organic
The ingredients that I cook with and serve – and most of the products that I stock in your kitchen are USDA Certified Organic. This assures you that the product does not contain hormones, antibiotics or pesticides. I recommend that you shop our local Cids Food Market for a large selection of organic foods.
Wind Energy
Casa Gallina participates in Kit Carson Electric Cooperative's Green Power Program. This means that pollution-free wind energy credits, available in 100 kilowatt blocks, were purchased to offset your electrical use while at Casa Gallina. Needless to say, please help us conserve energy by turning off your lights and lowering your heat when you leave your casita. (Ask at home to see if your local utilities have a similar program!) Also… I have replaced most of the incandescent bulbs at Casa Gallina with the more efficient compact fluorescent bulb. It has cut my electric consumption by about 40% in one year!
Natural Building
Consistent with the traditional vernacular architecture of Northern New Mexico, your casita is constructed of adobe mud-brick. This ancient building form, still practiced today, utilizes locally extracted mud that is formed, dried and stacked, providing you with a thick, thermally massive wall that cools in the summer, and keeps warm in the winter.
Indoor Air Quality
For the safety and health of our guests, Casa Gallina only uses chemical and fragrance-free detergents, soaps and cleaners. (I do use a small amount of bleach for cleaning and sanitizing where needed. I haven't found a good enough bleach substitute yet!)
Water Conservation
Being located in the high desert of Northern New Mexico, we do all we can to conserve our most valuable natural resource: our water. The flower gardens of Casa Gallina are watered by drip irrigation and grounds watered using the "acequia" (ditches) whenever possible. Your towels and bed linens will be replaced only upon request.
Recycling
Please utilize the recycling basket in your casita. Your glass, plastic, paper and cardboard, tin and aluminum will be collected and recycled at our local recycling center. The good news is that there's no need to buy bottled water as the water from the tap is from a deep and clean well!
Local Produce
In season, Casa Gallina invites all of our guests to pick fresh vegetables from our organic vegetable and herb gardens here on the land, and, of course, I'll keep your kitchen stocked with eggs from "the Girls". The Taos Farmers Market is open all summer long on Saturday mornings. And Cid's Food Market does their best to source many of their fruits and vegetables from local growers.
My hope is that by choosing to live an artisan life: buying handmade and locally grown products, living simply, creatively and with more conscious alignment with the natural world, we can live a more beautiful and healthy life… and just maybe help to preserve what the earth can provide for our future generations.
View all of our casitas!