El Gallo Grande
Three bedroom / Two bathroom traditional old adobe home with private courtyard garden.
Casa Gallina's El Gallo Grande is a sprawling 1400 square foot, 100 year old traditional Taos adobe home, with a beautiful courtyard garden. Sleeps from two to six guests: Couples, families, friends traveling together. A great eat in kitchen. Simply Stunning!
El Gallo Grande features:
Three bedrooms and two bathrooms of luxurious, artisan and antique furnishings
Queen sized beds in each bedroom
Organic Sateen sheets in Summer and Flannel sheets in Winter
Over-sized goose down comforters and pillows (guaranteed for allergy sensitive people)
Full cook's eat-in kitchen with a cozy Wood-burning Kiva fireplace next to an old dining table
A spacious living room with natural mud and clay plasters, wood plank floors, and traditional Viga ceilings
Private courtyard garden with outside dining table and shady hammock
A wireless laptop computer with high speed Wifi
DVD player
Music/Speaker hook ups for your device
"I'm staying at Casa Gallina again this weekend for the fifth or six time.  This time in El Gallo Grande.   We brought friends with us again this time, and they have fallen in love with this magical place as well. The grounds, the rooms and the owner are all exemplary. Come with a good book and some wine and unwind. You will not want to leave…"
<iframe src="http://app.thebookingbutton.com/properties/casagallinadirect/booking_widget" allowtransparency="true" STYLE="background-color:#fff;padding-left:5px;" frameborder="0" height="200" scrolling="no" width="250"></iframe>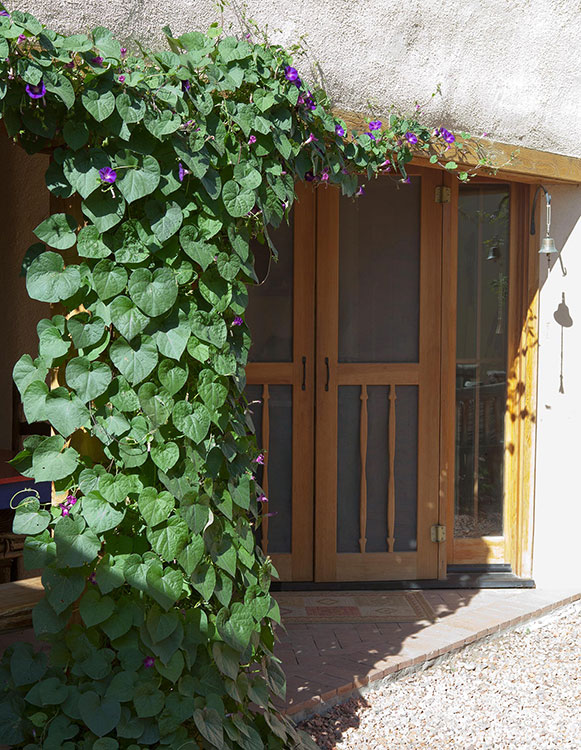 View all of our casitas!