There's nothing to me, more rewarding and fulfilling, than going to our Saturday morning Taos Farmer's Market on The Plaza.   We call it "Church" and Matt & I never miss a Saturday! 
We have our favorite farmers that we buy from, though I like to stray every now and then to see what I find outside of our routine. 
The best of the berries are from Ron, tomatoes for sure from Joe, the tastiest and most loved pork and beef from Lucas, Agostino roasts my green chilis for me, and from Karen, I always treat myself to something baked; Dana, who owns and operates tea.o.graphy, keeps me stocked on my delicious teas for Casa Gallina!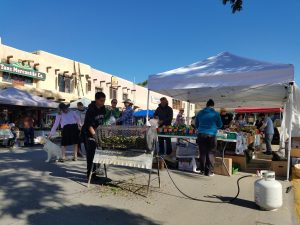 After an hour of strolling tent to tent, Matt & I make our way over to World Cup for our second cup of morning coffee.  It's just part of the routine.
It's also a place to see friends and neighbors – rare to walk ten paces without hugging another friend. Bouquets of flowers on display.  The smell of Green Chilis roasting.  Mariachis singing their soulful songs. Piles of picture perfect heirloom tomatoes.  Loaves of hearty breads piled high.
We go to the market despite the abundance right here in the gardens at Casa Gallina, which are currently bursting with greens, herbs, raspberries, squash, potatoes, broccoli, chilis, beets, carrots ….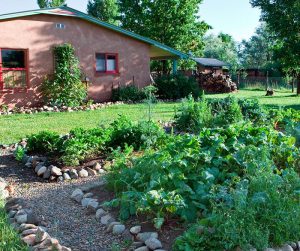 Harvest in Taos!   What abundance and gratitude I feel.