Casa Gallina invites you to slow down before the holidays begin this season.  We're offering 25% off our rates from November 1st until December 16th!  
Come discover Taos off season. Visit us as the town dresses up for the Yuletide season, but before the holiday crowds arrive.  Be here while the night air is getting crisp and the smell of Pinon burning in fireplaces fills the air.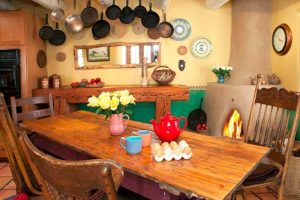 While you're here, take the time to meet the locals on the front porch at World Cup Coffee.  Chat with the shop keepers and art gallerists. There's time to feel Taos at it's most authentic and at it's quietest.  Take time to read a novel snuggled up next to a wood burning fire here at Casa Gallina.  Take time for a long hot bath in a claw foot tub!  Take time to SLOW DOWN before the holidays begin!
Book directly from the website and use promo Code: SLOWDOWN
Or … Call to reserve directly with me:  575.758.2306
(This special is not available Thanksgiving Weekend Nov.23,24,25)
I look forward to hosting you before the holidays.
Cheers!
Richard Spera (your innkeeper and host!)